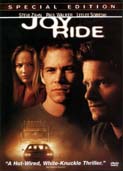 Directed by: John Dahl

Released in: 2001

Come on, it's got LeeLee Sobieski in it; that's a good enough reason to watch it. "Joy Ride" Actually is a great movie, even if LeeLee isn't in it for the most part.

Two people decide it would be fun to play a prank on a truck driver over the CB radio; their little joke turns into a nightmare for them are their friends from college.

I loved it because it has a great mixture of suspense and comedy. Fuller's timing is perfect. If nothing else, at least rent it, there's a good chance you'll wind up buying it.